Extrusion line for production of tubes from biodegradable materials and other materials. DATRIA extrusion lines feature very low energy consumption.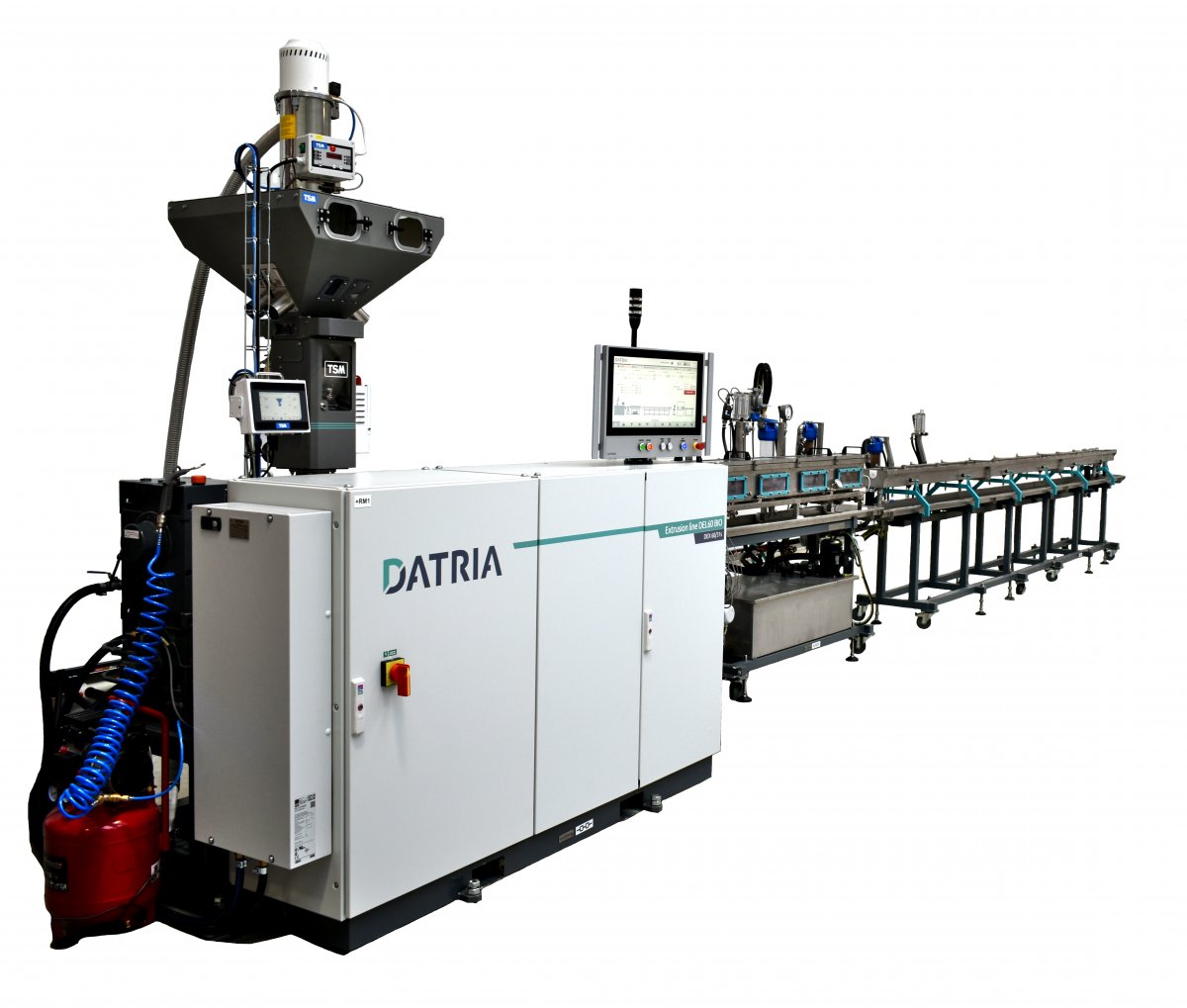 ---
WHY SHOULD YOU CHOOSE US?
We will explain this below.
We approach each project with the greatest responsibility as we are fully aware that you expect the new techonology to be quickly installed, have increased output, be easily operated and be very reliable. To be able to achieve this result, we consult the projects and cooperate with the leading experts in this field, or even with many of you, because your valuable technological experience.
CONTROLLING DATRIA EXTRUSION LINES is optionally by analog control, but WE DEFINITELY RECOMMEND PLC CONTROL.
AND THEREFORE CONTROL SOFTWARE DEXTRUSION ver. 2020
DEXTRUSION is intuitive, modern control software intended for controlling demanding extrusion technologies and it contains a lot of advanced functions. It will be pleasure for us to acquaint you with it.
WITH B&R CONTROL SYSTEM
B&R line control with PLC.
B&R control system is the most used control system of plastic technology producers such as: Battenfeld-cincinnati, KraussMaffei, Milacron, NegriBossi and more than 200 others!
Why have these producers chosen for their technologies this control system? Because it is a modern control systém and it is in one word wonderful.
You can find more information about Baumüller extruder drives by clicking on our supplier's link: WEB motorů Baumuller

TECHNICAL DESCRIPTION OF OUR EXTRUDERS:
SERVO EXTRUDER DRIVE
The extruder is equipped with synchronous servo motor Baumüller (D) with high efficiency level IEC4, compared to standard asynchronous motors with the efficiency IEC2.
These motors are used in machines produced by manufactures such as: KraussMaffei, Engel, Davis Standard, Husky, Hans Weber and a lot of others....
Why do they use them? Because they significantly reduce their energy consumption, they are extremely reliable and efficient.
You can find more information about B&R extruder control systems by clicking on our supplier's link: WEB řídících systémů B&R
ZAMBELLO EXTRUDER GEARBOX
The gearbox Zambello is characterised with long service life and trouble-free function.
These gearboxes are used by plastic machine manufacturers such: Milacron, Bandera, NegriBossi, Mikrosan and many others.....
Why do they use them? Because these gearboxes will surprise you by high performance and infinite service life.
OTHER EXTRUDER EQUIPMENT and SPECIFICATION
B&R servo motror control, branded quality components only, Dynisco pressure sensor is a must, PID regulation precisely controls heating zones.
DEX extruders have optimized heating zones made by German producer ETB with high efficiency and decreased consumption.
The barrel and screw are made of nitrided or bimetal steel which features high service life even when processing abrasive materials.
MODEL DEX 25, DEX30, DEX45, DEX60, DEX75, DEX90, DEX110, DEX120
Note: Extruder output (kg/h) of processed plastic material is configured on the basis of customer's requirements and specification.
The working extrusion length (screw flight) is in the range of 23 up to 38 L/D.
We calculate motor power consumtion (kW) based on various parametres (required output kg/h, production speed, plastic material type ..... )
WHAT ABOUT PERIPHERALS?
Extrusion technologies are various and rather complicated. Peripherals (vacuum baths, cooling baths etc.) and parts we are sure of we can produce for youby ourselves. We are able to connect other producers' devices to our extrusion lines - TSM batch blenders, melt pumps, tools, printers, in-line measuring, haul-off and various types of cutting devices. Thanks to many-years experience we know who to invite to solve the project as a supplying partner so the result was perfect. We cooperate with the best ones.
WHY DOES DATRIA USE THESE COMPONENTS? BECAUSE WE DON'T SAVE MONEY ON QUALITY AND OUR AIM IS TO PRODUCE THE BEST MACHINES ON OUR PLASTICS MARKET.
furthermore .... we offer OUR INDIVIDUAL APPROACH TO EVERY SINGLE CUSTOMER AND SERVICE THAT IS NOT OFFERED ANYWHERE ELSE ... 24/7!
We will offer you a tailor-made service plan within our technologies that suits you the best.
TECHNICAL SPECIFICATION
Extruder - screw and barrel dia Ø 60 mm - 31L/D, engine "servo" Baumüller, gearbox Zambello, PLC B & R - software DEXTRUSION
4 - components gravimetric dosign unit TSM – Optimix MK2
Gear pump Nordson
Extrusion tools
Vacuum + cooling bath 6 m from stainless material
Laser printer
Haul-off and planetary cutter
---
EXTRUSION LINE DEX BIO - photogallery
---
EXTRUSION LINE DEX BIO - download
Our team Meet our team of experts