Single-screw coextruders are modern controlled machines with a compact drive, they can be used in different ways: for research and development or production. These extruders excel in high modularity. Various types of downstream devices can be connected to them and functions can be adjusted according to customer requirements.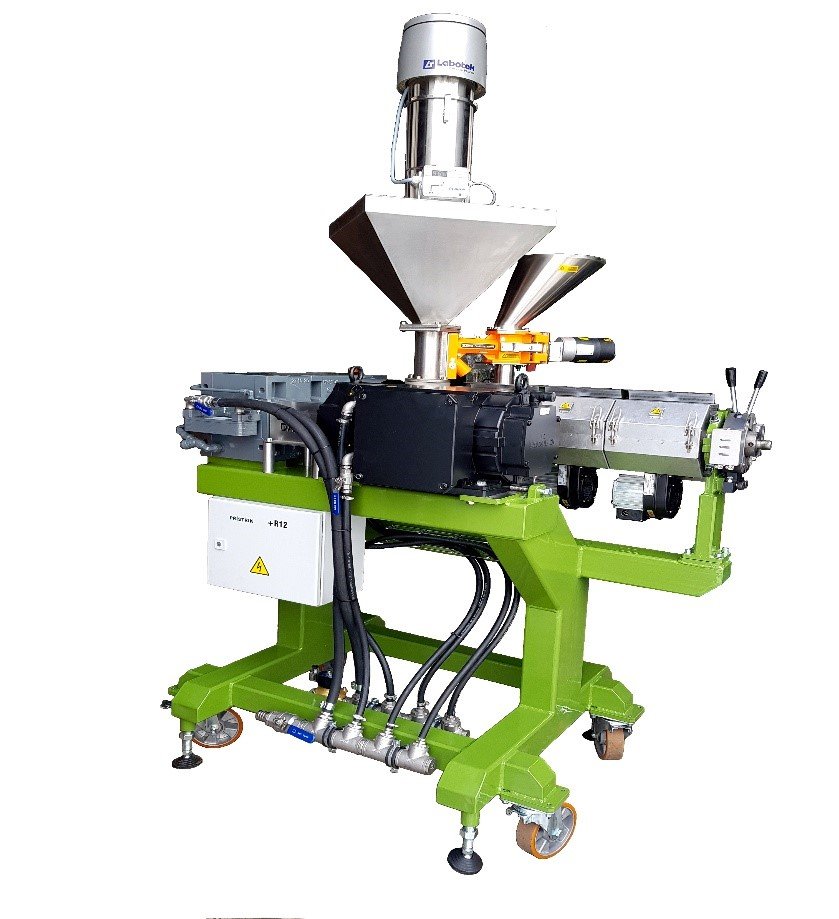 ---
- Very good handling due to compact design.
- Optimal device function via touch screen control.
- Coextruders can be adapted to almost any extrusion process.
- A multitude of options for use and extension.
Examples of realizations:
Single screw coextruder series "KOEX 45/20 s"
TECHNICAL SPECIFICATIONS
Screw and barrel diameter 45 mm.
Screw design and nitrided barrel. On request can be delivered in other versions (bimetal, hardened, with increased chemical resistance, etc.)
Expected output up to 45 kg/h according to the processed material and the tool used.
Inverter: B&R
PLC Control: B&R
Heating zones ETB (Germany). Number of heating zones 4, air cooling fans. Cooled sub-hopper zone with water.
Engine Baumüller 24kW
Zambello gearbox
Control PLC - DEXTRUSION system contains two optional languages (Czech / English), different user levels, recipe programming, operating history logging.
Extruder hopper in stainless steel design. The hopper is rotatable for easy emptying. It is equipped with a safety sensor for operator safety.
Extruder je vybaven teplotním a tlakovým čidlem materiálu zn.Dynisco.
Celkový příkon stroje 37kW.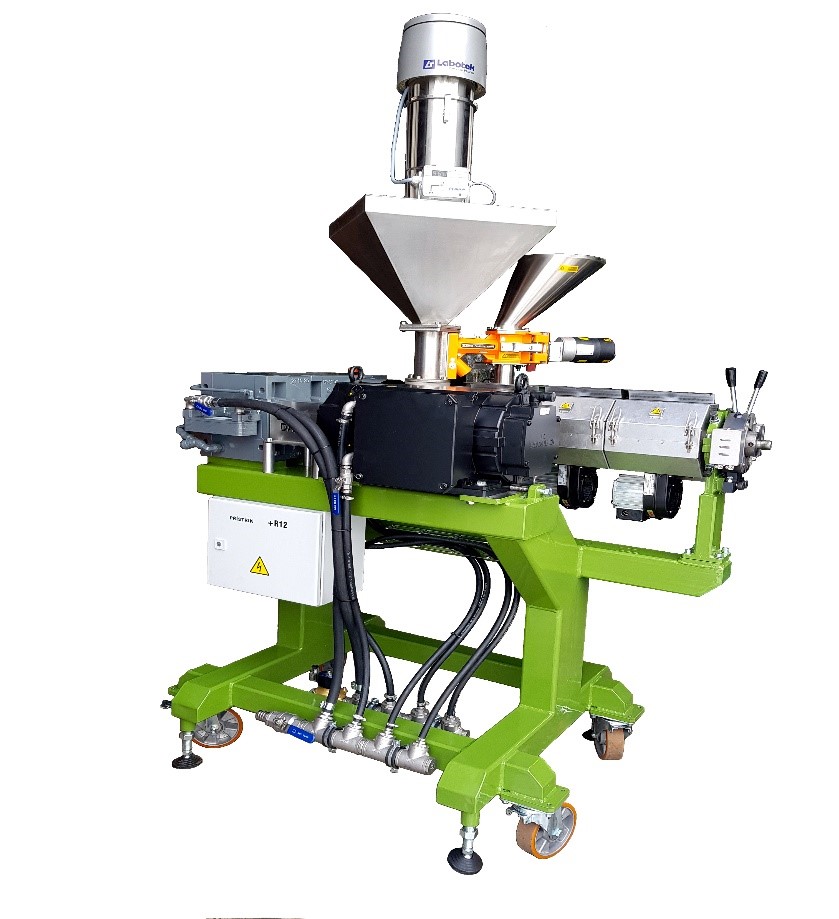 Single screw coextruder series "KOEX 25/27 s"
TECHNICAL SPECIFICATIONS
Screw and barrel diameter 25 mm.
Screw design and nitrided barrel. On request can be delivered in other versions (bimetal, hardened, with increased chemical resistance, etc.)
Expected output up to 5 kg/h according to the processed material and the tool used.
Inverter: B&R
PLC Control: B&R
Heating zones ETB (Germany). Number of heating zones 5, air cooling fans. Cooled sub-hopper zone with water.
Engine and gearbox SEW 2.2 kW.
Control PLC - DEXTRUSION system contains two optional languages (Czech / English), different user levels, recipe programming, operating history logging.
Extruder hopper in stainless steel design. The hopper is rotatable for easy emptying. It is equipped with a safety sensor for operator safety.
The extruder is equipped with a temperature and pressure sensor of the material brand. Dynisco.
Total power input 8kW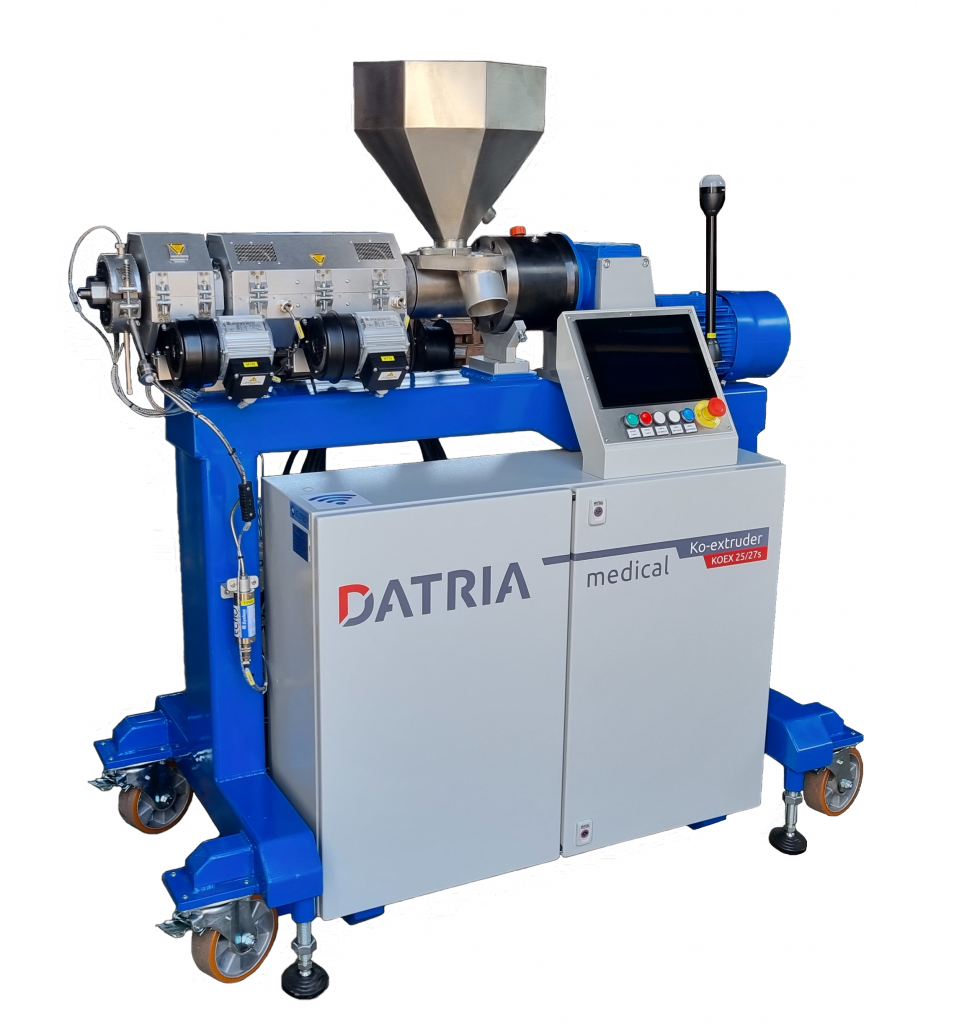 ---
COEXTRUDERS - photogallery
---
Our team Meet our team of experts